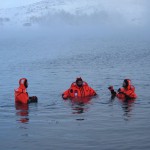 In the period from January to mid-March, we welcome you here to test your strength in cold weather and snow. This is also the best time to experience the Northern Lights.
Our winter activities:  Northern Lights hunting, ice fishing, skiing, snowshoes hiking, swimming in the Arctic Ocean wearing survival suit, accommodation in tents or mountain cabins. Making fireplace, ice bathing with sauna afterwards, snowmobile safari. Dogsledding can be arranged. The choices are many, and we organize a program for your needs. The "hard days", can end with good dinner and drink, sauna and outdoors bathtub.
Prices on request.
Season: January, February, mid-March.