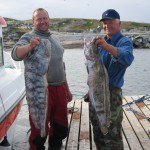 Seafishing in the Arctic sea, this is the area for catching big fish. Cod, halibut, haddock, wolffish and many other species is just waiting to be captured by you.
With our Deep Sea Fishing, you do not simply get a "fishing' trip. Our captain brings you into the Arctic sea, and know were the fish is.  What you take away from the sea is then all up to you, and hopefully that includes some big fish!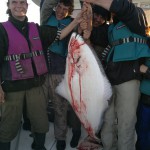 King crab safari can be combined with seafishing. We have traps in the sea, and if you want you can be involved in checking those.
We started our operations in the summer of 1995 and look forward to calm seas and heavy lines every summer.
Our seaboat is 30 foot long and comes with a captain/guide. Fishing gears included in rent. Minimum four hour tours, we can take 7 guests. Season: medio may to october. We are looking forward to welcoming you aboard.