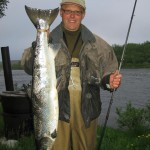 In Neiden you will find one of the best salmon rivers in Norway and our cabins is located right next to it.
The salmon season in Neiden is from 1.of June to the end of August.  The river has place enough for all, even if you are a special salmon fisher or a more inexperienced one. There are also grayling and trout in the river.
We have fishing gear and boats for rent, guide can be ordered, and even rower can be fixed.
The largest salmon taken in the river; 27 kg.
For more info and rules: www.neiden.no.
Our cabins: From 3 to 6 beds cabins. Prices from nok. 860.-/night to nok.1350.-/night. Warm and cozy cabins with cooking possibility, shower and toilets is in service buildings.
Summer and autumn, we have a small house for rent.                                   Price from nok.1 900/night. The house is located in car distance from our main base.